• IELTS
How does IELTS on Computer work?
682 Reads

3 min Read
By:

CANAM Group

Updated On:

May 31,2023 05:26 PM IST
Learn how does IELTS on Computer work? | Prepare for IELTS Reading, Speaking, Writing and Listening section with India's Top IELTS Coaching Institute - Canamprep.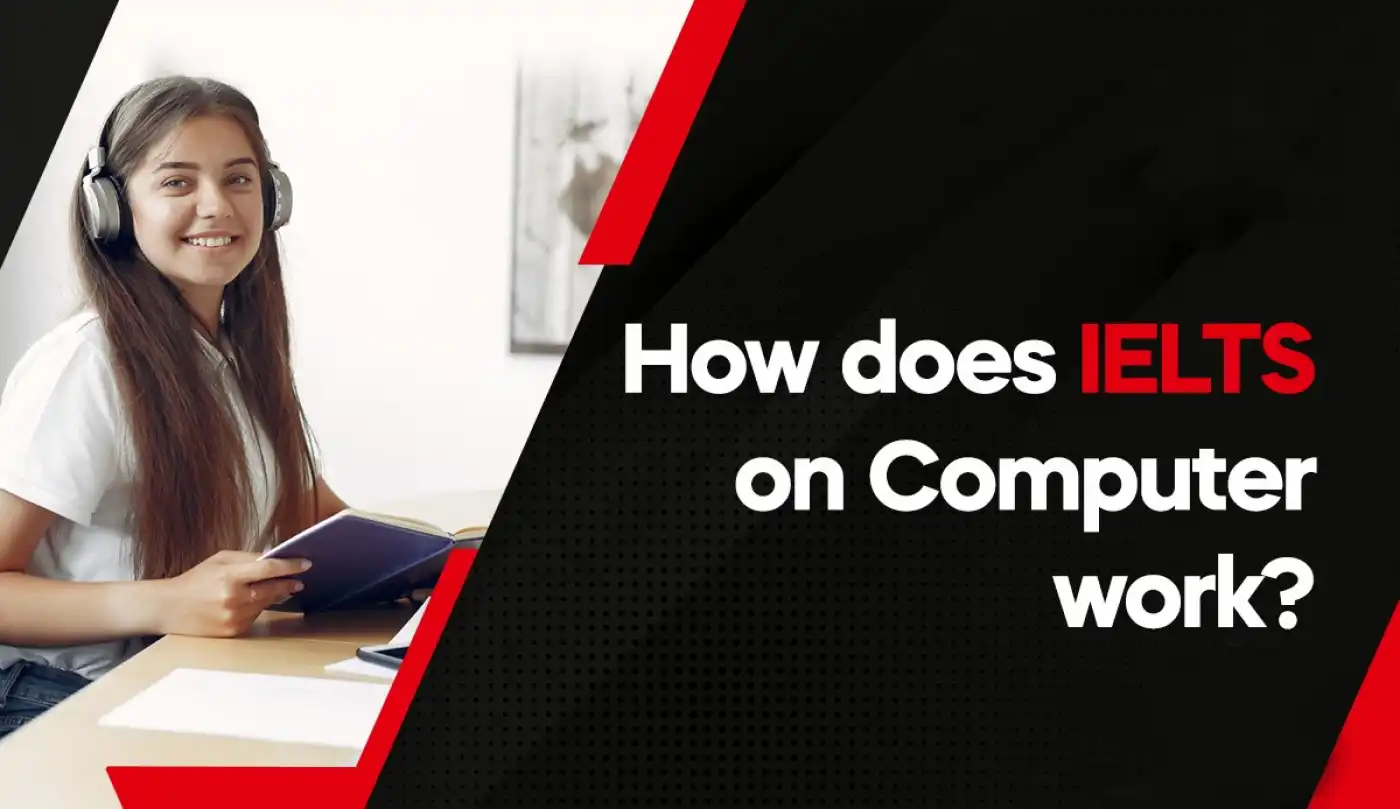 IELTS, or International English Language Testing System, is the world's most popular English proficiency test and is recognized by over 10,000 educational and professional institutions worldwide.
The exam is available in two formats – IELTS on paper and IELTS on Computer, and it is a choice that you have to make as per your convenience. Don't worry; whichever format you choose, you can be confident that you are taking the same test with no difference with respect to the content, test timings, structure, marking criteria, question types, security, speaking test and test report form.
In this blog, we will discuss the differences between the CD- IELTS and Pen and paper IELTS so that you as a student can learn about the format of both the exams and choose the format that you feel is best for you.


IELTS on Computer and IELTS on paper
IELTS on paper and IELTS on Computer are almost the same exams. In IELTS on paper, you write your answers on a sheet of paper, whereas in case of IELTS on Computer, you submit them on a computer desktop. The IELTS on Computer gives you an added advantage of having more test dates, i.e. up to seven days a week. It also allows you to choose the time slot of your choice, out of the three time slots. Moreover, if you don't have much time and want quick results, then by taking IELTS on Computer you can expect results within 3-5 days of your test date.

Also read: IELTS Overview
Format
IELTS on Computer has the same format as the IELTS on paper for Listening, Reading, Writing and Speaking modules, and out of these, you attempt three sections on the Computer while the speaking test is conducted face-to-face with a certified IELTS examiner.
Test duration
IELTS on Computer lasts for 2 hours and 45 minutes, but the listening test timings are different from the IELTS on Paper.
In the computer-delivered Listening test which lasts approximately for 30 – 36 minutes, you get some time to read questions before you start any part of the listening test and will be given two minutes to review your answers.
Listening section
The listening module for IELTS on Computer is no different than that of the paper-based test. In the IELTS Listening test, you attempt multiple-choice, matching, plan/map/diagram labelling, form/note/table/flow-chart/summary/sentence completion and short answer questions. In the IELTS Listening test on Computer, many tools help you to attempt the test, some of which are:
Help button: This button is available at the top of the screen and helps you find instructions related to your IELTS test.
Navigation Bar: It allows you to see all the questions in the section and is located at the bottom of the screen.
Arrow buttons: These buttons allow you to move back and forth across the questions.
Volume buttons: The Volume button allows you to increase or decrease the volume as per your need.
Also read: IELTS Eligibility
Writing section
The writing section in both the tests is the same and is divided into two tasks:
Task 1:

In this part, the questions are in the form of graph, table, chart or diagram, and you have to describe, summarise and explain the information in your own words.

Task 2:

In this part, you have to write an essay and give your point of view, argument or the reasons and solutions to a certain problem.
Reading section
The pattern of the computer-delivered IELTS test is the same as the paper-based IELTS test, and the category of questions is also the same, comprising of multiple-choice, identifying whether the information is True, False or Not Given, recognizing a writer's views and claims, matching information/headings/features/sentence completion, sentence/summary/table/note/flow-chart/diagram completion and short answer questions.
In the Reading test, the screen is divided into two halves, with the left side having the reading text and the right side having the questions. You are also allowed to highlight the text and make notes in your passage.
IELTS on the Computer: Benefits
1.Quick results: By taking IELTS on the Computer, you can get results in just 3-5 days.
2. Flexibility: In IELTS on computer, test slots are available 7 days a week and up to 3 times a day*, allowing you to choose the time and day perfect for you.
3.Automatic word count: The Automatic word count in the Writing task helps you save time.
4.Highlight text and make notes: With IELTS on computer, you can highlight text and make notes.
5.No handwriting Issues: You don't need to be careful of your handwriting since you type in the exam.
6.Easily edit your answers: You can re-write and edit your answers as many times as you want.
Are you planning to prepare for the IELTS exam? Is cracking the IELTS exam with 8 band on your wishlist? Visit Canamprep - North India's leading IELTS Institute with highly experienced and certified trainers to help you prepare your best, master your weak sections and then get an overall good band score in IELTS. Canamprep has trained thousands of students like yourself to crack the IELTS exam. Are you the next?
Also read: IELTS Exam type
FAQ
What is the test duration and format of CD IELTS exam?
The Listening, Reading, Writing, and Speaking modules of IELTS on Computer follow the same format as IELTS on Paper; however, you can only take three of these modules on a computer; the speaking test must be taken in person with a qualified IELTS examiner. 2 hours and 45 minutes are allotted for the IELTS on Computer.
What is the difference between CD IELTS and pen and paper IELTS?
The IELTS exam is essentially identical on paper and on a computer. You write your answers on a piece of paper for IELTS on paper, but you submit them on a computer desktop for IELTS on computer.
What are the different types of questions in Listening module?
You can answer multiple-choice, matching, plan/map/diagram labelling, form/note/table/flow-chart/summary/sentence completion, and short response questions in the IELTS Listening test.
What are the four tools used in Listening module?
The four tools used in Listening module are: Help button, Navigation Bar, Arrow Buttons and Volume Buttons.
How is Reading module conducted in CD IELTS?
The reading text is on the left side of the screen, which is separated into two parts for the Reading test, and the questions are on the right side. You are permitted to underline and annotate the piece.
Get great articles direct to your inbox
The latest news, articles, and resources, sent straight to your inbox every month.
Popular Universities to Study Abroad
World class education waiting for you.
Blogs and Articles
Curated content to keep you updated on the latest education trends, news and more.
How to work in Canada after Graduation
After completing their studies, many students choose to live in Canada only because there are a lot of job opportunities in Canada for Indian st...
Updated on • Sep 23,2023 04:23 PM IST • Study Abroad
Related Blogs and Articles
A little effort to provide an authentic and reliable content for keen readers!!