• IELTS
IELTS Letter Writing Topics 2023
2514 Reads

3 min Read
By:

CANAM Group

Updated On:

May 26,2023 04:12 PM IST
You must be familiar with the fundamentals of creating and developing a letter if you want to perform well on IELTS Writing Task 1 for General Training. Any letter with accurate information written and explained clearly is helpful. Here are a few examples of IELTS letter topics to help you understand more.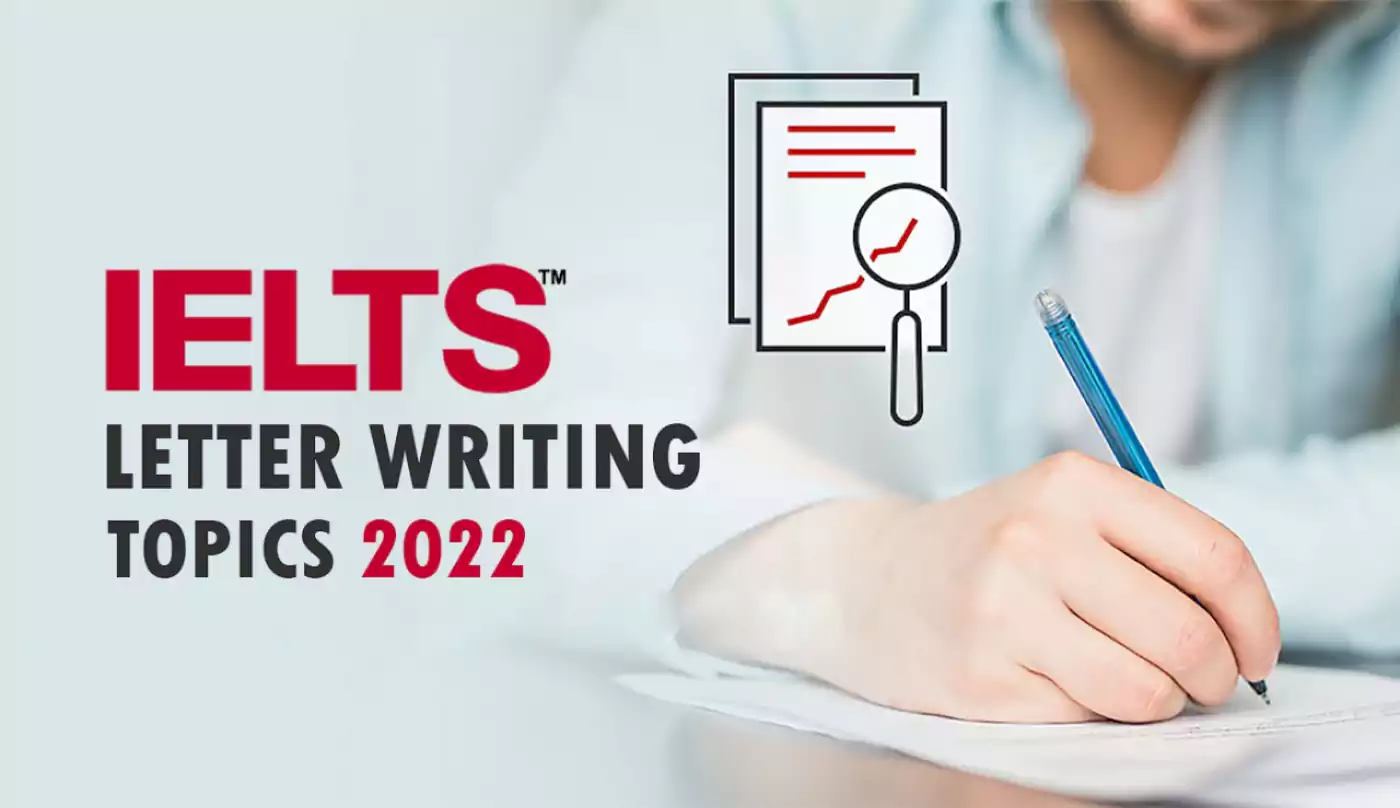 There is a 60-minute time limit for the IELTS Writing test, with 20 minutes allotted for Task 1 and 40 minutes for Task 2. IELTS General Writing Task 1 requires you to write a letter that is at least 150 words long. Depending on the circumstance, it could be a formal, informal, or personal letter.
You are graded on the following in IELTS Writing Task 1(Letter Writing):
Task Achievement:
Depending on the letter's length, relevance, and tone, you receive a band out of 9. The letter's goal must be made abundantly clear. Your content must be 150 words or less, but writing too much is not a good indicator. Task 1's overall score is 25% based on task achievement. You won't be able to earn a TA score higher than band five if you don't respond to every aspect of the question prompt.
Grammatical Range and Accuracy:
Grammatical range and accuracy serve as a band description of how well and efficiently you can use the language in your response. Grammar rules should be followed when writing sentences. Most students must learn about the present continuous and make errors in subject-verb agreement, prepositions, and articles. It would help if you used a variety of complex sentences to convey a variety of sentence patterns, etc.
Lexical Resource:
The lexical resource is the number of words you have used and how well and appropriately you have employed them for the specific task. The correct terminology must be used for the precise meanings to be communicated. Include relevant words you've chosen in your sentences that pertain to the subject.
Using uncommon yet accurate lexical terms can achieve a high band score. Use a variety of terminologies with highly natural and excellent linguistic control to maximize your score on this description; rare, minor errors should only happen accidentally.
Coherence and Cohesion:
The coherence and cohesion requirements for tasks 1 and 2 are the same. Coherence is the degree to which the ideas are linked logically. Cohesion creates conceptual and referential connections between and within sentences using cohesive devices such as logical connectors, pronouns, and conjunctions. The text must not draw notice, and its flow must be natural.
Also read: Test centers for IELTS
You can base the tone of your letter on one of three options: FORMAL, INFORMAL, or SEMI-
Your thoughts must flow logically from one to the next, which is possible using the simple, 6-part structure.

1.Dear ..... (Salutation)
2.Paragraph 1: Purpose – Reason for your letter
3.Paragraph 2: Write about the details in the 1st bullet point given
4.Paragraph 3: Write the details related to the 2nd bullet point
5.Paragraph 4: Write information based on the 3rd bullet point
6.Signoff
FORMAL:
In the IELTS exam, formal letter writing category can be categorized into ten different categories:

1.A Complaint Letter
2.A Request Letter
3.A Review Letter
4.A Feedback Letter
5.A Resignation Letter
6.An Application Letter
7.An Apology Letter
8.An Arrangement Letter
9.An Explanation Letter
10.An Invitation Letter
IELTS Informal Letter
It's a personal letter regarding social and personal circumstances to someone you know or near you, as the name implies.
Since there are so many options when writing to a friend or someone close to us, informal letter-writing topics are more difficult to categorize or group than formal letter topics. An example of Informal letter writing would be:
Please write a letter inviting your friend inviting them to your wedding. In your letter:


Tell your friend about your wedding and explain why their being at your wedding is crucial for you
Suggest that they may stay with you at your place
An informal letter should begin with a general, welcoming paragraph. Before stating the purpose of your letter, first, acknowledge your friendship. In reality, the opening sentence could be nothing more than a small cordial conversation irrelevant to the topic of your work.
IELTS Semi-Formal Letter
A semi-formal letter is written when an informal entity converges into a formal situation, i.e., you know that person, but the connection is formal, even though the distinction between formal and informal letters is obvious.Your Neighbours use loudspeakers, and that disturbs you. Write a complaint letter to the secretary of the society. In your letter:


Tell them that your Neighbours are bothering you with the loudspeakers
Explain the whole situation to your secretary
Ask for the secretary's help by intervening in the situation
Also read: IELTS Exam fee


Here are a few tips that you may use to score better in IELTS letter writing:
1.DETERMINE THE LETTER'S TYPE: Identify the type of letter, Formal, Informal, or Semi-formal.
2.SELECT AN APPROPRIATE TONE AND REMAIN WITH IT: The tone would depend on the type of letter.
3.COMPILE YOUR LETTER USING THE COMMON ESSAY FORMAT: The format must be clear and organized. You can use the standard essay format.
4.WRITE CLEARLY AND CONCISELY: You must write what is essential and remember that the minimum number of words must be 150.
5.USE IMAGINATION, BUT STAY REALISTIC: You must analyze the situation and use information that makes clear sense. Any discrepancy can confuse the reader.
6.RESPOND TO EVERY PART OF THE QUESTIONS: You must attentively read the question and make a plan by addressing each section by the points and situation described. Since every question is unique, it is impossible to memorize them. Instead, thoroughly study the question before taking action.
7.CONTRACTIONS AND INFORMAL LETTERS: Use contractions when writing an informal letter. However, task 2 and professional or semi-formal letters should refrain from utilizing contractions.
8.GRAMMAR: Make sure you employ suitable grammar and a variety of topic-specific words. Any letter must deliver the intended information or message; occasionally, poor grammar can radically alter the meaning.
9.MODAL VERBS: Modal verbs are words that soften and formalize phrases, making them sound less direct.
10.EVERYDAY LANGUAGE: The GT test encourages participants to employ collocations, etc., by using and expecting them to use ordinary English. Letters are talks that have been written to efficiently and creatively communicate information. Because we write them, and for us, all letters are personal regardless of their tone of voice (to communicate with others).
Formal:
A request
A letter of complaint
An apology
A letter of explanation
An application or resignation letter
An invitation
A letter to make an arrangement
Informal:
A request
A letter of complaint
An apology
A letter of explanation
An application or resignation letter
An invitation
A letter to make an arrangement
Also read : IELTS Registration
Some Topics for Practice:
You are dissatisfied with the course you chose at college and would like to shift to a different one. Write a letter to the director of the college requesting to change your course. You should the following include details about the:



What course are you doing now?

Why are you not satisfied with that course?
What course would you like to change to?



Recently, you have moved to a new apartment. Write a letter to a friend. In your letter:



explain why you have moved
describe your new apartment
invite them to pay a visit



You want to learn a language, and there is a teacher near you. Write a letter to the teacher. In the letter:



say how you came to know about them
explain why you want to learn
ask what help they can offer.



You will soon visit the town where your friend attends university. Write a letter to your friend. In your letter:



explain the reasons for your visit
give details of your stay
ask your friend to suggest some evening activities for entertainment.



You live in a room in college with a roommate and another student. This arrangement has many problems, and you will find it challenging to work or study. Write a letter to the accommodation officials from the college. In the letter:



describe the situation
explain the problems and why it isn't easy to work
say how you would like the situation resolved.



There needs to be a solution to the changing rooms in the sports center you visit. You have complained several times but have yet to be successful. Write a letter to the officials of the sports centre. In your letter:



describe the problems with the changing rooms
say what happened the last time you had complained
explain what you want the manager must do.


Also read : IELTS Exam pattern
FAQ
What are the most common letter writing topics?
There are 7 IELTS letter topics that come up regularly in General Writing Task 1. They are:
•
A letter of explanation
•
An application or resignation letter
•
A letter to make an arrangement
How can I prepare the most common topics for letter writing?
You must work strategically to prepare the letter writing topics.
•
Identify the types of letters first.
•
Figure out the purpose of the letter.
•
Recognize the suitable tone for the letter.
•
Read and understand all the bullet points.
•
Plan your task with relevant lexical resources.
How can I generate ideas to explain the bullet points?
•
Read the main statement of the letter and identify the purpose.
•
Try to relate it with any of your real life experiences.
•
Write down the keywords related to it.
•
It is easier to attempt a letter once you relate with the situation.
•
Write at least 5-6 lines for each bullet point.
What is the strategy to get higher band score in letter writing?
•
Remember to state the purpose of the letter writing clearly.
•
Maintain a relevant tone of your letter.
•
Tone has to be formal for – formal and semi-formal letters, while you can be friendly, using contractions in informal letter.
•
Remember to create separate paragraphs for each bullet point.
•
Use proper cohesive devices for connecting those bullet points so that the reader (examiner) can understand your content.
What can be the easier way to attempt letter writing?
•
Read variety of sample letter writing answers during your preparation.
•
Prepare your opening and closing lines for letter.
•
Practice letters of varied purposes and tone.
•
Always plan your task before writing
•
Seek expert advice at Canamprep Study Abroad Services.
Get great articles direct to your inbox
The latest news, articles, and resources, sent straight to your inbox every month.
Popular Universities to Study Abroad
World class education waiting for you.
Blogs and Articles
Curated content to keep you updated on the latest education trends, news and more.
Job interview tips for international students
Job interview tips for international students can be beneficial as, for most students, the main goal behind pursuing a field of study and getting thei...
Updated on • Sep 27,2023 04:12 PM IST • Study Abroad
Related Blogs and Articles
A little effort to provide an authentic and reliable content for keen readers!!