• IELTS
IELTS Speaking Cue Cards
2595 Reads

3 min Read
By:

CANAM Group

Updated On:

Jun 21,2023 05:01 PM IST
The blog here will first discuss the criteria on which the IELTS Speaking test is evaluated. Then, it moves to discuss the various parts of the speaking test in the IELTS exam. Finally, the blog focuses on Part 2 of the Speaking test with three sample speaking topics (Cue Cards) and their sample answers.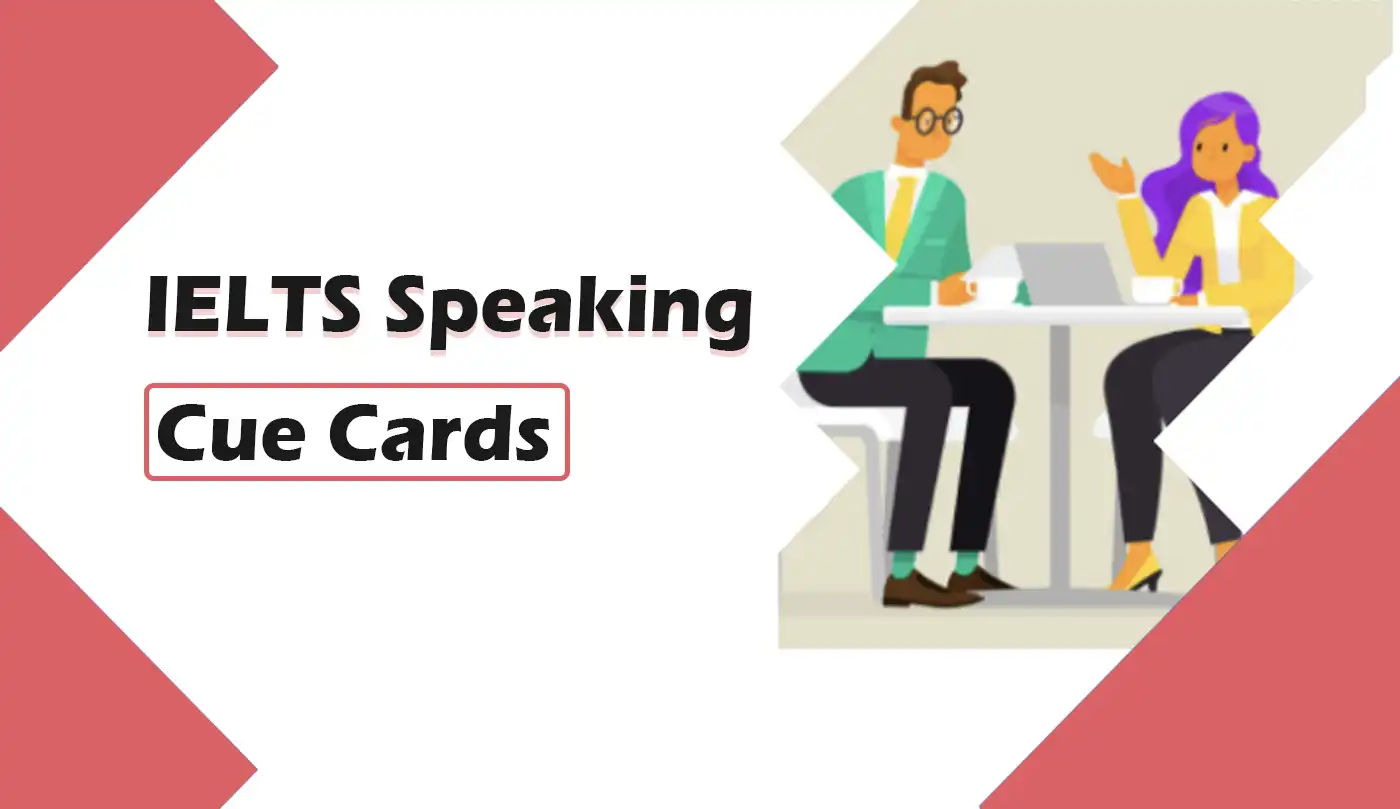 IELTS Speaking
One of the modules of an IELTS Exam is the Speaking Module. The Speaking module tests your ability to speak the English Language on the following criteria:

• Fluency
• Pronunciation
• Coherence and Cohesion
• Lexical Resource
• Grammatical Range and Accuracy
Also read : IELTS Exam type
Apart from this, the IELTS Speaking Test consists of three parts as follows:
Part 1: Introduction
In this part, the examiner asks questions where you need to simply introduce yourself. Then, the examiner will ask questions based on three simple and general topics. You will be asked your simple likes or dislikes and other simple questions on these topics. You are expected to give reasons for your answers as well. You will be asked about 9-12 questions on average.
Part 2: Cue Card Topic
In this part, the examiner will give you a Cue Card topic with some hints on it to speak. The topic will be general and does not test your specific knowledge of it. The examiner will give you one minute to prepare the topic and then you have to speak on the topic and the hints given to you for about two minutes. You need to cover all the hint questions to score a higher band in the Speaking module.
Part 3: Discussion Based questions
In Part 3, you will be asked general questions based on the Cue Card Topic in Part 2. The examiner expects you to do an in-depth discussion on the topic in Part 2 generally. Although, the examiner is not going to test your knowledge on the topic. You might be asked four to five general questions based on the Cue Card Topic. You are also expected to give reasons for your opinions in these answers.
Also read : IELTS Exam dates
In this blog, we will focus on Part 2: Cue Card Topic round where we will discuss a few Cue Cards with their sample answers as well.
Sample Cue Card Topics and Answers
Cue Card Topic 1
Favourite Movie
There are numerous movies which we watch and forget as nowadays most of the movies don't have any impact on us. But, there is a movie which I can never forget as it made me realize the actual meaning of life and see it from a different perspective.
The movie which I still fascinate is 'Three Idiots' as this movie has different plotting, a climax and an end too. This movie has three main characters -three friends who have different circumstances and how they deal with them and get back to their lives and try to stay happy.
In the beginning, the movie shows a scene of a college where students from different backgrounds come. Initially, the junior students are bullied by their seniors in the movie. Then, two students named Farhan Qureshi and Raju Rastogi get to meet each other. Then, they meet one eccentric personality named Rancho who tricks his seniors while they are ragging. They become friends and enjoy their college time. Meanwhile, Rancho teaches them the rules of life and then the movie shows how both of his friends' perspectives towards life changes. In the movie, the principal of the college is very strict and students call him the virus. He is totally against Rancho in the beginning, but, at the end, his notion of life changes totally. But, a stage in their lives comes when Rancho disappears and both his friends search for him. Then, the climax of the story comes which is very interesting to watch.
Then, the ending is even more fascinating as the other two friends, at last, find their lost friend, Rancho. He becomes a Scientist and meets his love too. The underlying theme of the movie is that it advises a person to run from all the negative thoughts, influences and bullies of life as quickly as he can, no matter how others around him try to "degrade" him physically and intellectually.
So at last, I'd like to end the topic by saying that I am allured by movies which have given good moral teaching and also teach us something good and change our way of thinking too.
Also read : IELTS Test Centers
Cue Card Topic 2
Speak about your favourite artist/musician or singer

-Name
-What skills he/she possesses
-Why he/she is your favourite
Music is one of the inevitable parts of one's life as it elevates one's mood and refreshes the mind also. The singer who comes to my mind when I think about music is Justin Beiber. He is a Canadian singer and he started singing at the age of 13. He is such a singer who always forces me to evaluate and re-evaluate his musical works because of their uniqueness and his mesmerizing voice. As he has been recognized as an outstanding artist, he is the only artist to have 7 songs debut in the Billboard HOT 100.
Justin Beiber is arguably one of the best singers as he changed people's perspectives about music. Besides being a singer, he is also a writer, as well as an actor which makes him the heartthrob of the people especially, of female fan following. He has sung many popular and record-breaking songs. Among them, the songs like Baby, Sorry, Love Yourself, etcetera, are record-breaking and these songs' lyrics are remembered by the people. Even though this great singer has sold more than 150 million records, thus, bringing him to the top of the list, still he doesn't forget to express his love, friendship, intellectual keenness and sense of humour in his songs in a rather unique manner. Anyway, all kinds of people, young, old, adults, working professionals, regular persons or intellectuals, male or female with a bit of "rebel" in them love to listen to his music. As he is a philanthropist also, so, people do adore him and are always excited when his new album is released.
He is my favourite singer because no other singer can replace his work and the way he represents himself. Besides, I find all of his songs splendid as most of his songs have deep meaning under the line. On top of that, unlike many other singers, Justin Beiber writes and composes many of his songs himself, and, as a result, many of his songs have become real "Masterpieces". Finally, Justin Bieber is my favourite because he uses his voice in a way that is unique and according to the requirement of the song.
Also read : IELTS Exam Fee
Cue Card Topic 3
A positive change in your life

-When it happened
-What happened
-What you learnt from it or how it changed your life
It is well said by someone that change is a must. Changes are inevitable and they are for the betterment of a person. Many people are reluctant towards these changes as they fear the consequences. I am going to tell you what change transformed me into a different person having a different viewpoint from what I used to think before and when it happened. I'll give you a bit of detail about how things were different for me after the change and finish by describing what it means for me now and a bit later in life. The change I am going to describe is a blessing in disguise for me, as earlier, I had hesitation to go for it but later on, I was appreciated for my decision.
The change was when I thought I would become fitter and would start exercising and make my body fitter. And, the thing that was my helping hand was running. However, I'm jumping ahead. A year back, I started to eat a lot of junk food and started ignoring my health issues. I was getting obese by eating and doing nothing in name of exercise. When my health turned worse, then I realized the things I was missing in my life which were a healthy diet as well as some activities to be done to stay fit.
Then, I started doing morning walks, though it was difficult for me in the first run, later on, it turned out to be very good for me and boosted my confidence which I had somehow lost then. I didn't know whether I was following the correct procedure of exercising or not but I continued it. However, I've always liked being outdoors, so something out of a whim, I booked an activity holiday in an adventurous place. I tried to walk most of the time by foot instead of using my vehicle or public transport to ensure I was following my schedule strictly as walking is a great form of exercise. You don't need any special equipment for it. You can do it anywhere and it's free! What's more, I found interest in online exercising videos from which I learnt many ways to keep fit.
So, all in all, I'll say that this change was very affirmative for me as it changed my life. Now, when I look at myself and compare my personality with my past, I feel far more confident, vibrant and energetic.
Also read : IELTS Exam Registration
FAQ
How do I use the IELTS Cue Card?
The IELTS Speaking Test consists of three sections. In the second exam section, you are given a topic to discuss for a few minutes. This topic is written on a piece of paper as a cue. Cue Card or Candidate Task Card is the name of this test segment. I will have how many cue cards in my exam.
I will have how many cue cards in my exam?
For your IELTS Speaking exam, you will only be given one topic for the cue cards. Just spend approximately two minutes discussing it.
Can I choose the topic for the cue card in the IELTS Speaking test?
The topic for your IELTS cue card part cannot be chosen by you. You'll receive it from the examiner.
If I find it tough, may I modify the topic on my cue card section?
The topic on the cue card cannot be changed. After being given a topic, you must speak on it.
Can I take notes to discuss the subject?
Yes, it is very advised that you take notes on the subject and put down your thoughts so that you can speak on the subject at hand without pausing or hesitating. Make quick notes and get ready to speak with the examiner as soon as you receive the cue card paper with the topic and questions written on it.
Get great articles direct to your inbox
The latest news, articles, and resources, sent straight to your inbox every month.
Popular Universities to Study Abroad
World class education waiting for you.
Blogs and Articles
Curated content to keep you updated on the latest education trends, news and more.
Related Blogs and Articles
A little effort to provide an authentic and reliable content for keen readers!!