• Australia
Part-Time Jobs for International Students in Australia
328 Reads

3 min Read
By:

CANAM Group

Updated On:

May 23,2022 12:04 PM IST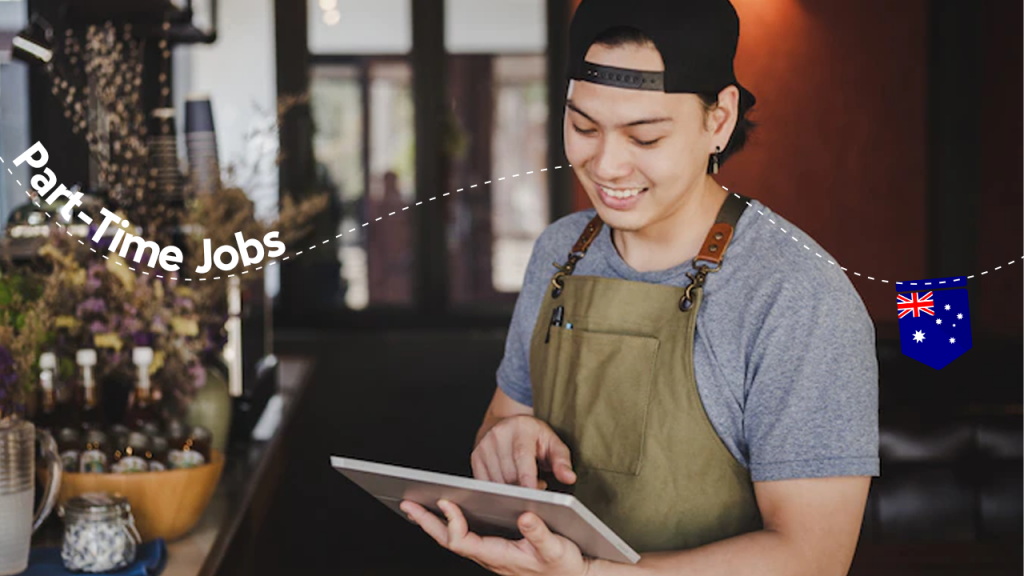 Australia is one of the most preferred study abroad destinations among Indian students. The country has some top universities, a wide range of courses, Scholarship options and part-time and post-study job opportunities. The affordable living costs and comparatively lower tuition fees than other leading studies abroad destinations make it the third most preferred study abroad destination.
One of the most asked questions by our Indian students is about the Part-Time Jobs for International Students in Australia. Indeed, a Part-time job plays an important role in a student's life as it enables him to support his studies and manage his finances during his stay abroad.
This blog will help you learn about the part-time jobs you can do in Australia and the eligibility criteria for acquiring part-time jobs in Australia. 
Working hours and pay scale
Students can work in different sectors in Australia, such as hospitality, service or industry, and retail, and can work for 20 hours per week during semesters and unlimited hours during vacations. There are various kinds of skilled and unskilled part-time jobs in Australia, and the pay scale for each of the occupations differs based on the location of the job, demand, and type of work. The minimum wage students earn in Australia is around AUD 20.
Eligibility Criteria
Requirements for part-time jobs in Australia:
Valid student Visa 
The student must be admitted to an Australian Government approved full-time study program.
 Students must fulfil the University's minimum attendance and academic prerequisites.
A student should hold an overseas student health cover.
How to find Part-Time Jobs in Australia
International students can find a job in Australia in this way:
Inquiring with friends or colleagues
Websites for online job postings
Professional recruitment agencies
The institution's alumni groups
Dedicated university or college websites and job posting boards
Browse sources like references, online portals, newspapers, etc.
Part-Time Jobs for International Students in Australia
Become a Tutor
One can be a private tutor if he has immense knowledge in a particular field and wants to impart it to others. By becoming a tutor, you can earn a handsome amount of money and work at your convenience. As a tutor, you can earn AUD 20-40 per hour based on your expertise. 
Customer Care Centres
The other kind of part-time job that you can take up is at the 
Customer Care Centre. The job doesn't require you to have too many skills; you have to answer customers' questions about the company's goods and services. Students can earn between AUD 25-32 per hour by working at the Customer Care Centres in Australia.
Cashier
In businesses, there is a high need for accountants and cashiers and Indian students studying in Australia can take up these jobs and earn between AUD 20-30 per hour. Students who have some basic computer skills can claim these jobs with ease. 
In stores
International students in Australia can work at the supermarkets as these supermarkets require employees to manage the customers and fill in the shelves. Students usually earn between 20-25 AUD per hour working at the stores, and the payment differs according to the size of the store, number of employees and customers.
Jobs at Cafes and Restaurants 
The hospitality industry is one of the best for Indian students to work for as it needs no additional qualifications, and the jobs are also in very high demand offering students an excellent chance to earn between 20-25 AUD per hour.
Driver
If you like driving and exploring new places and have a valid driver's license and clean driving history, you can work part-time as a personal driver in Australia and earn between $20 to $25 per hour.
Delivery person
As a student studying in Australia, you can work as a delivery person. It is one of the best jobs that students like to take up as they can work whenever they want. To work as a delivery person, you need to have a bicycle, bike or car and drive safely, keeping in mind you keep the delivery package damage-free. You can earn between $18 to $25 per hour if you work as a delivery person.
Cleaner 
If you are looking for a high-paying part-time job and love cleaning, you can be a cleaner and earn between $20 to $25 per hour. Initially, you can work at a cleaning company, and after gaining some experience, you can work at private homes, hotels, restaurants, etc. There are no basic requirements to be a cleaner, and you can work at your convenience.
Conclusion:
We hope that this blog has helped you get crucial information about Part-Time Jobs for International Students in Australia. Canam Consultants is your trusted Study abroad consultant in India that helps you explore study options and study in Australia and other leading studies abroad destinations including Canada, USA New Zealand, the United Kingdom and Singapore. Canam Consultants have partnerships with some of the most prestigious institutions colleges and Universities, making It easy for students to get admission into their favorite institution and study their favorite program while living their best life.
Get great articles direct to your inbox
The latest news, articles, and resources, sent straight to your inbox every month.
Popular Universities to Study Abroad
World class education waiting for you.
Blogs and Articles
Curated content to keep you updated on the latest education trends, news and more.
Best Health Programs to Study in Canada in 2023
Canada is home to some of the top universities in the world, such as the University of Toronto and McGill University. Additionally, Canadian degrees a...
Updated on • Mar 31,2023 11:26 AM IST • Courses in Canada
Related Blogs and Articles
A little effort to provide an authentic and reliable content for keen readers!!