• IELTS
IELTS Cue Card Sample 559 - Describe your favourite dress
955 Reads

3 min Read
By:

CANAM Group

Updated On:

May 13,2023 12:18 PM IST
A cue card topic with associated Follow up questions will be provided for references. You will have one minute to be ready for the "Describe your favourite dress" question and will then have roughly two minutes to speak. The third part of the IELTS speaking exam, the discussion round, will be based on your topic and require you to answer questions in at least four lines. Describe your favorite dress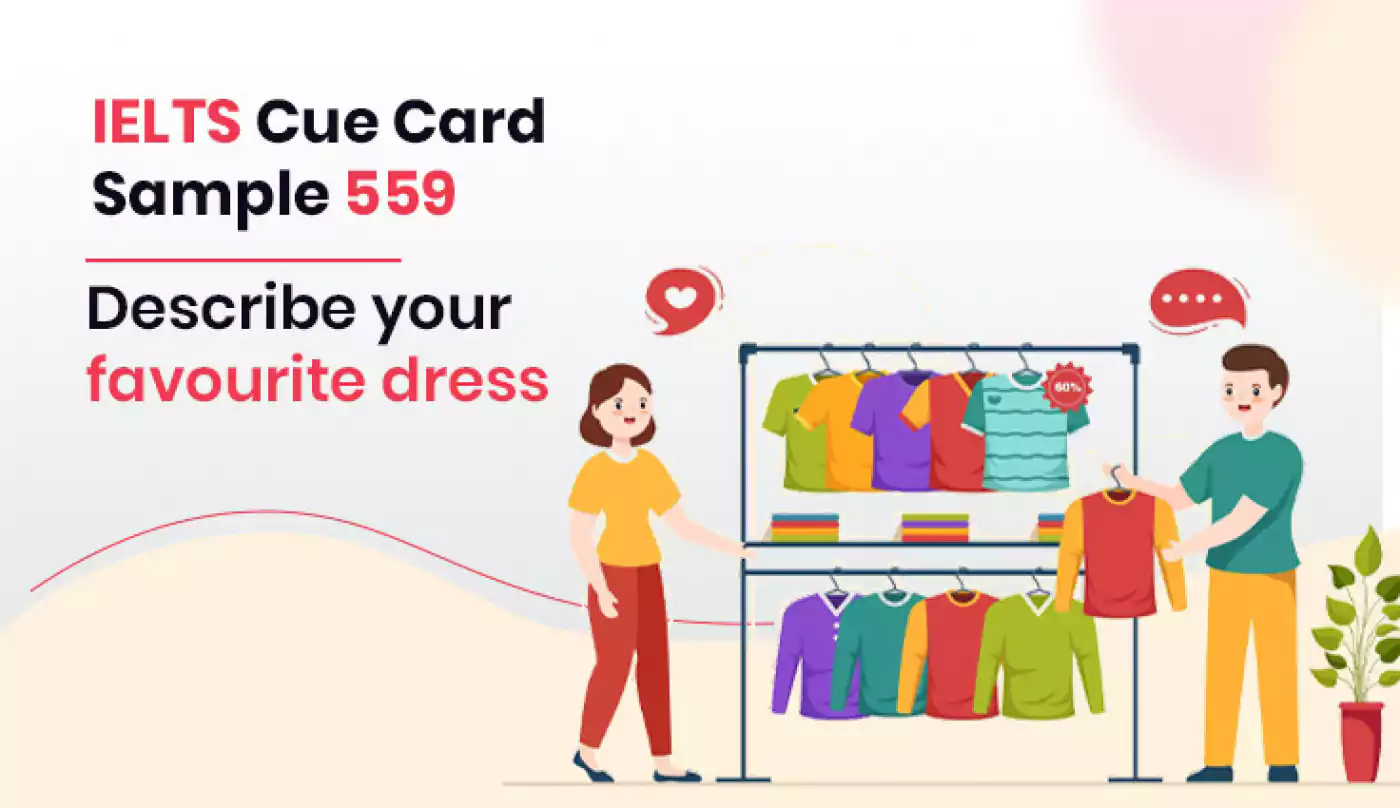 You must include:
What is it?
When do you like to wear it?
How often you wear it
Explain what is so special about it.
Model Response 1
In terms of clothes, I consider myself to be more of a casual type. Of course, various people's perceptions of being casual will vary. But as far as I'm concerned, I consider wearing blue Cargo jeans and a Pink coloured oversized T-shirt—which, incidentally, also happens to be my favourite dress. Therefore, I'd want to talk about my favourite outfit today, which I wear, um, pretty much constantly.
Now, of course, just because I claimed that I prefer to wear it constantly doesn't mean that I actually do. Instead, I meant to state that, unless there is a ban or restriction on wearing them or nothing much special where I need to spruce up, I like to wear my favourite dress as frequently as I can.
So, if you were to ask me specifically when I prefer wearing them, I would respond that I enjoy doing so when I am visiting any friend's home, going grocery shopping, attending a sporting event, or picking up my young nephew from school.
Additionally, I like to wear them even when I'm going to a party—casual or not—at a restaurant or other gathering place. It is just that I pair it up with different shoes and jewellery as per the occasion.
Therefore, I suppose it is accurate to say that I wear them every day, with the exception of when I have a formal meeting with my boss at work.
Nevertheless, the reason this specific dress is so significant to me is mainly due to the fact that it is simple to wear and keeps me at ease and comfortable in all weather conditions, unless, of course, it is too chilly outside.
I really like them because no matter what I do or where I travel, I don't have to work too hard to keep things decently clean and organised. Finally, the fact that I don't have to worry about wasting my time ironing them even when I walk outside is another reason why I think them to be so remarkable.
Also Read: IELTS eligibility
Model Response 2
I love wearing all of the clothing options available in India, from traditional to western, but if I had to pick just one, it would be an Indian or Pakistani Kurti. Kurtis often provide me a great sense of comfort, therefore I like wearing them in all seasons.
In India, kurtis/kurtas are available in a wide variety of styles that you can wear both regularly and on special occasions. Kurtis or kurtas are worn as an upper garment by both men and women.
An Indian traditional dress known as a kurti comes in a variety of sizes and lengths, including long knee-, calf-, and ankle-length options. In actuality, kurtas come in a variety of styles and colours, from formal to casual. Typically, it is produced from a variety of materials such cotton, silk, synthetic material, or wool.
The one that I wear is Orange georgette Kurti in the summer since they are breezy and light. However, when worn for formal events, it looks magnificent and there is a phulkari jacket too that can be worn in traditional events adds to it.
The fact that anyone can wear this item of clothing, regardless of age or gender, is its best feature. In India, several men and women wear kurtas and kurtis virtually daily. I frequently enjoy donning short cotton kurtas too as I am a Professor at a university.
It makes me feel incredibly secure. Furthermore, the variety of shapes and patterns make me never get tired of wearing kurtis or kurtas. Additionally, I think that I look amazing in georgette kurtis/kurtas during Indian weddings and other events. For one, they are graceful. Two, they make me look tall and graceful.
Also Read: IELTS exam dates
Examples of follow-up questions that might come during speaking part three.
What sort of attire is appropriate for the workplace?
In all honesty, business attire should be worn to work, and many businesses have a dress code that employees are expected to follow. Uniforms are required in some businesses, which give employees an identity and foster a sense of discipline. People should dress appropriately and formally at work.
Does personality have an impact on how individuals dress?
Indeed, our sense of style when dressed more fully exposes who we are. The clothes we choose to wear have an impact on how we act, think, and behave. They also reflect our emotions. Our own style is reflected in the things we wear. They reveal our identities, our origin stories, and our personal values.
Also Read: IELTS test centers
Do you believe that dress matters during special events?
Rather than only being a need for warmth or comfort, clothing is also associated with our identity. When visitors show up to weddings, festivals, etc. in appropriate attire, it is clear that the event is special and significant. Additionally, as attire is seen as a cultural expression, it will undoubtedly convey respect for a religious festival.
What distinguishes the dressing habits of young individuals from those of older ones?
The younger generation, in my opinion, is most impacted by the newest trends, but older people are not fashion's obedient subjects. Youth typically want to wear new fashion trends, and they have a stronger preference for western clothing such skirts, jeans, T-shirts, and hybrids of Indian and western dress.
However, older people like to dress traditionally because they feel more at ease in them. We would always prefer that you first do it on your own first. At the same time don't shy away from getting new ideas too.

Also Read: IELTS exam - Overview
FAQ
How to describe clothes in IELTS?
A topic on clothes in IELTS can be described using the following vocabulary words:
• Clothes (It is always plural)
• An item of clothing I love
• One piece of clothing
• I like to wear jeans
• I wear jeans/trousers as they are very comfortable
• My jeans/trousers/jeans are very comfortable

How to answer what types of clothes you like to wear in IELTS?
You can say 'I like to wear casual clothes because I want to feel relaxed and comfortable. As I am not very fashionable, so, it's not important for me to look trendy all the time.
What kind of clothes do you like to wear and why?
I prefer to wear basic and comfortable clothes and I also like to mix accessories with my clothes. I like wearing clothes that fit me well and make me feel comfortable. As an example, I prefer wearing jeans and a t-shirt rather than a dress and a skirt.

Why do we wear quality clothing?
Wearing good quality clothing can protect you from things like dust, dirt and pollutants. Clothes that are made from good quality fabric help you protect your skin from rashes and other allergies and are comfortable to wear as well.
How can you describe a dress?
A dress is also known as a frock and gown. It is a garment that is worn traditionally by women or girls and consists of a skirt that is attached to a bodice. It may have a matching bodice and gives the effect of a one-piece garment. It has a top piece that covers the upper part of the body and hangs down over the legs.
Get great articles direct to your inbox
The latest news, articles, and resources, sent straight to your inbox every month.
Popular Universities to Study Abroad
World class education waiting for you.
Blogs and Articles
Curated content to keep you updated on the latest education trends, news and more.
Related Blogs and Articles
A little effort to provide an authentic and reliable content for keen readers!!