• IELTS
Describe a website you have bought something from - Cue Card # 737
956 Reads

3 min Read
By:

CANAM Group

Updated On:

Jan 12,2023 12:10 PM IST
The second part in the speaking test of the IELTS is the IELTS cue card. The speaking segment of the IELTS has a variety of Cue Card topics. The purpose of this test is to see if a candidate is competent enough to organise an answer and speak nonstop for two minutes. It assesses organisational abilities and language usage as well.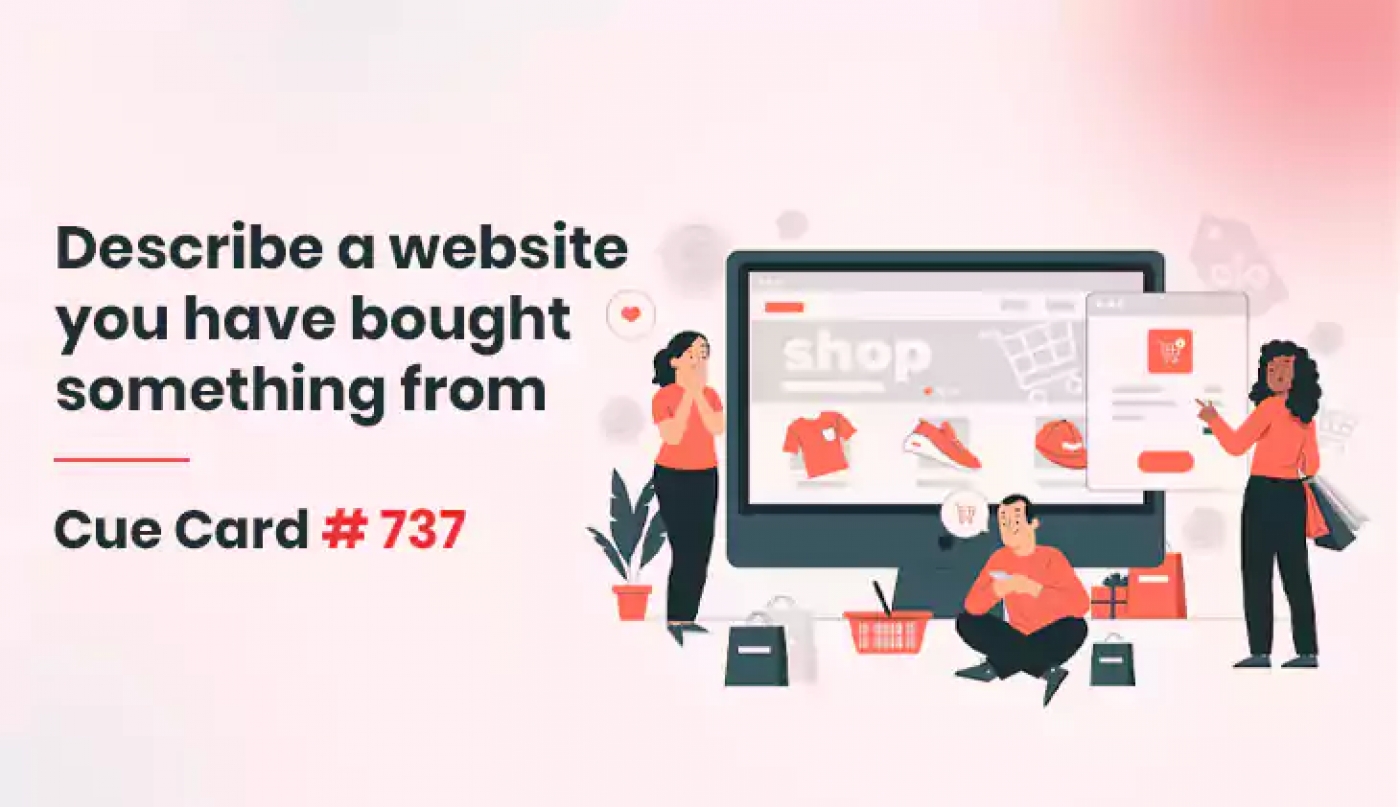 You'll be given a minute to consider your response before being given a pencil and a piece of paper to take notes with. However, there is no way to switch the subject.
Since we understand the need to get new ideas and practice ideas.
In this blog post, we are going to provide you with two model responses for the Cue card "Describe a website you have bought something from" and the ways you can develop new ideas.
Describe a website you have bought something from
You must include:
What is the website?
What did you buy?
How satisfied were you with the purchase?
Model Response 1
There are undoubtedly many sophisticated e-commerce websites online, but selecting one can be a challenge because we can never be sure if they are truly dependable or trustworthy—unless, of course, we are discussing amazon.com.
Now, I believe those very few people who use the internet to make purchases are unaware of the Amazon eCommerce website. However, it bears repeating that the largest online retailer in the world, the maker of electronic book readers, and the web service provider are what have come to represent the electronic commerce sector globally.
By utilising the newest technology to the fullest extent on its website, amazon.com has effectively altered how business is conducted online. And I was reminded of this when I just went to their website to purchase an e-book reader for my cousin, who is 14 years old.
Also Read: Exam fee for IELTS
By the way, I purchased a Kindle Paperwhite, which is definitely the best option for all types of customers. Despite the fact that this sleek 6-inch tablet has 8 GB of storage and a 300-PPI backlit display, it didn't even cost me that much money.
It was therefore a big thing for me in the end because I didn't have to look elsewhere for what I was specifically looking for. The nicest part, though, was that I probably only needed 4 to 5 minutes to complete the entire process of looking for and purchasing my e-book reader. And if my cousin wouldn't happen like it, I could always return.
Also Read: Eligibility Criteria for IELTS
The fact that Amazon.com truly enables its users to customise and filter product information depending on their tastes and interests is something I really enjoyed about the website. And the way the website organised its navigational features really really impressed me.
In particular, for such a "huge" online retailer, it was constructed and designed in a way that makes it simple so that customers won't feel lost when looking for their products. My cousin was also happy with the gift.
Model answer 2
There are various online purchasing sites, including those for specific companies, such as Amazon, Flipkart, and Ajio. I use MYNTRA for the majority of my online purchases because it is a reputable retailer with quick shipping and superior packaging.
I've purchased a lot of items from Myntra. I started to shop from here when I started to work. As a professional, I certainly need to keep up with clothing trends. I feel this is the best for me because of my thyroid, my weight keeps on fluctuating and I always have to get my clothes altered or frequently buy myself something which would fit me.
Also Read: Exam dates for IELTS
This website receives a tonne of traffic because of the products offered during lightning deal deals, which are a big draw. I have heard about it even from my friends. Almost everybody I know finds it trustworthy. The website has a section where we can buy many luxury brands.
Many international brands are there. This even has an option for looking up for design or dress with the help of a photo or camera option. No other shopping website has offered this so far.
There are numerous items on the website that can be bought, but Myntra trustworthy products have their own demand. Not all items purchased from this website can match the quality described on the product description page.
More affordable solutions should be included, in my opinion, in the website's section on home furnishings. Since Myntra is a fantastic website, it goes without saying that it has demonstrated its excellence through the support it offers to users.
Also read: IELTS test Centres
Mind map- An idea generation technique
Writing down a basic concept and then coming up with other, connected thoughts to radiate out from it are the steps in creating a mind map. You can map knowledge in a way that will aid in your understanding and retention of information by concentrating on key concepts that are written down in your own words and looking for links between them.
The development of mind mapping as a tool for associative idea generation proved successful. A mind map is typically created by beginning in the centre of the page with the main topic or notion and then working outward in all directions to form an expanding diagram made up of keywords, phrases, concepts, facts, and numbers.
It is a good method to employ for your "thinking" when writing tasks and essays, especially at the beginning. You can use mind mapping to generate, visualise, organise, take notes, solve problems, make decisions, revise, and clarify your university topic so that you can begin working on assessment activities. A mind map is an excellent tool for students to utilise to essentially "brainstorm" a topic.
When it comes to using this technique in IELTS Speaking test, you can implement it in the round 2 cue card. When the examiner gives you an impromptu speech, you are given a minute to prepare for it. Candidate would not have much time write a complete sentence, so to utilize time, they can organize or visualize a mind map with the keywords related to the topic.
Also Read: Registration process for IELTS test
FAQ
1 Is there any fixed syllabus from which I have to cover these topics related to part 2?
In general, the IELTS Speaking Exams last 11 to 15 minutes. It is made up of three sections. It takes five minutes to complete the first section, sometimes known as the general introduction or basic questions. The second half is the cue card portion, wherein two minutes are allotted for speaking on the subject and one minute is allotted for preparing. The candidate may also be stopped earlier by the examiner. The final phase, called the follow-up round, often lasts five minutes. There are no fixed patterned topics from which you would be asked something. You need to know the pattern of the exam. The topics range from personal opinions to situations to different other things.
2 What if, I run short of ideas at the time of the main exam? Will my band score be reduced?
It's always better to practice. If you feel like you will run out of the ideas, utilize the time given to prepare. Make notes. In case you forget the trains of ideas, refer to these notes.
3 Can I ask the examiner to rephrase the cue card question for me?
It is advised not to because it would reflect negatively on your understanding of the language. Moreover, it would be bad for your lexical resource.
4 If my examiner stops me before 2 minutes, Should I consider it a bad answer?
No, the examiner also mentions that you should not worry if they stop you before time. But it depends on your proficiency level too and your responses at the time of part 1.
5 Should I learn the answers to cue card?
This is an extempore speaking. The more natural your response would be the more chance of high band sore. We would advise you to practice speaking on the spot.
Get great articles direct to your inbox
The latest news, articles, and resources, sent straight to your inbox every month.
Popular Universities to Study Abroad
World class education waiting for you.
Blogs and Articles
Curated content to keep you updated on the latest education trends, news and more.
Related Blogs and Articles
A little effort to provide an authentic and reliable content for keen readers!!