• IELTS
Describe a place you would like to visit – IELTS Cue Card
3314 Reads

3 min Read
By:

CANAM Group

Updated On:

Jan 11,2023 11:29 AM IST
This blog post goes through three sample answers to one cue card, "Describe a place you would like to visit," in-depth.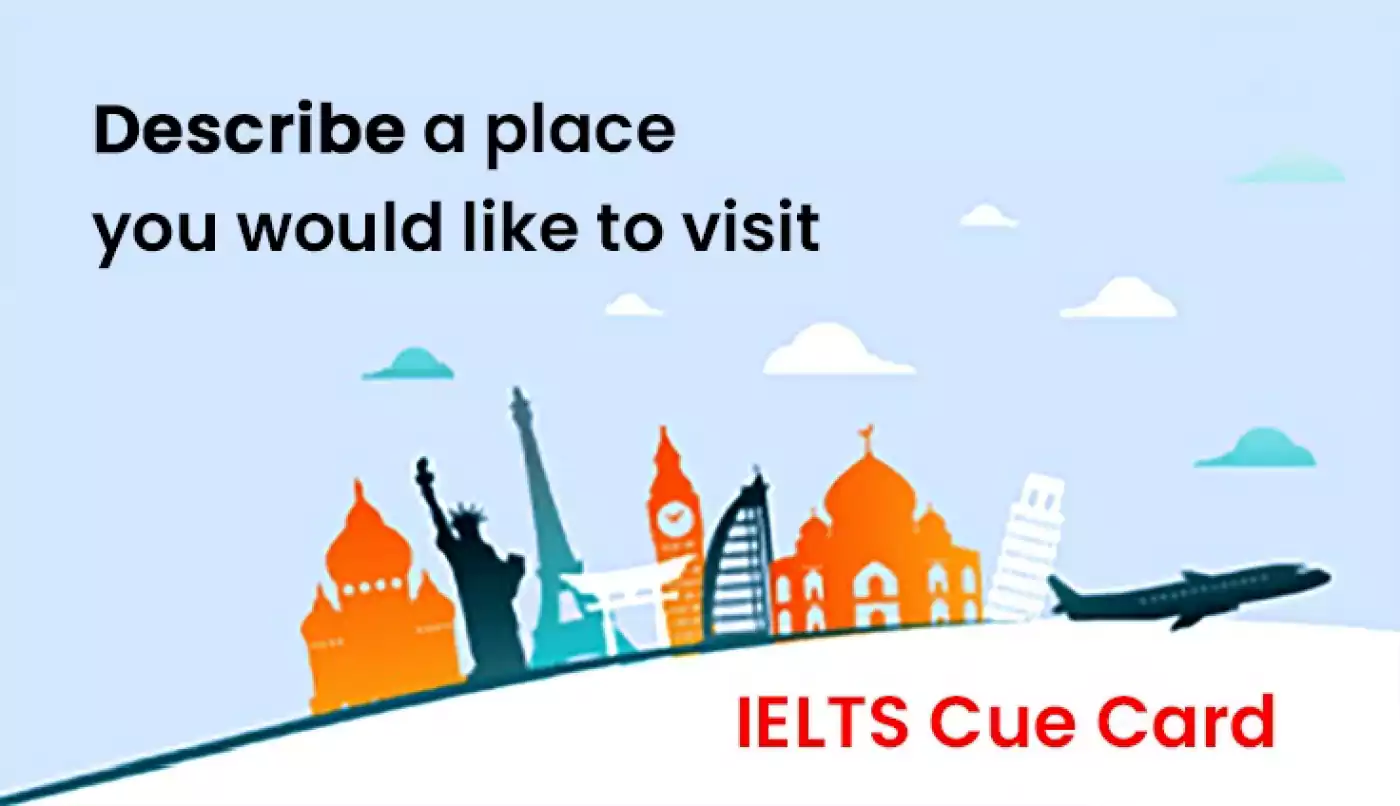 Describe a place you would like to visit.
You must include:
Where is it?
What are the main attractions?
How do you know about the place?
And your reasons for wanting to go there.
Model answer 1
Travelling to historical locations usually broadens one's understanding. In actuality, this is how you learn about real-world situations. I, therefore, enjoy travelling and would like to go to Amritsar to see the Great historical places in the city
Some of the interesting facts that made me wish to go there are related to history. The city is historically rich. Amritsar, one of the cleanest cities, is well known for the Golden Temple, also known as the Harmandir Sahib Gurudwara - the most sacred Gurdwara. Guru-vaani may be heard emanating from the Gurudwaras.
It is encircled by the holy Amrit Sarovar pond (water), where pilgrims take baths. Along with the Jallianwala Bagh massacre, this location is well-known for being close to the Wagah Border. Also well-known is the cuisine of Amritsar.
A spell is further created on the guest by the filling cuisine and the abundant servings of famed Punjabi hospitality. Amritsar, one of India's cities with the highest agricultural productivity, has good transportation links to the majority of the country's major cities.
Though I am a Punjabi, I have lived in a different city. Never in my life have I got a chance to visit the city. I have heard about it so much from my cousins and friends that even now I want to see it. It is not only this but also the culture.
The Punjabi dance, food, phulkari, wadiyan that it offers is world famous. The reason that I want to go there is to witness all these through my eyes. It is not just these, there are other things too like durgyana temple, and different Museums.
Also Read: Registration process for IELTS
Model answer 2
Since childhood, we are listening to stories of unpartitioned Punjab from our grandparents. Lahore is one of the cities I would like to visit once for sure. Also, with Punjabis, there is a popular saying that "jinhe Lahore ni dekhya unhe kuch ni dekhya" which translates to someone who has not seen Lahore has seen nothing, has made me want to go there.
It is a significant city in present Pakistan. This city has several captivating features that appeal to both residents and visitors. It will seem as though you are travelling back in time when you are in Lahore. The city has a long history because it was home to numerous ancient emperors who dominated the area.
The historic architectural marvels and overall majesty of Lahore will astound visitors. The iconic Badshahi Mosque, the Lahore Fort, which is included on the World Heritage List, and the Fakir Khana Museum are a few of the must-see historical sites.
An educational stroll through Lahore's Old Walled City is recommended. Lahore is the fashion capital of present Pakistan, and the city offers a fantastic shopping scene. There are shops there selling just about anything you can imagine, for any kind of traveller.
There are a wide range of shopping locations to discover, including enormous, modern malls with luxury shops, historic souks offering genuine local wares, and vibrant local marketplaces where shoppers may enjoy haggling for a deal.
Lahore, known for its wonderful cuisine, will be a foodie's paradise. Lahore is home to a profusion of restaurants, roadside stands, and fine dining establishments that are constantly packed with locals and tourists. There is such a wide range of beautiful cuisines served across the city. You'll never go hungry here, as some are open round-the-clock. Around the city are also numerous traditional bakeries and sweet businesses.
Lahore is known as Pakistan's cultural centre and is populated with incredibly vivacious, amiable, and welcoming inhabitants who go above and beyond to make visitors feel at home. The people of Lahore are devoted to numerous traditions, which are honoured at gatherings and festivals that take place all year round.
In addition to these, Lahore culture is also portrayed through literature, exotic cuisine, and art. It's a thoroughly educational location where visitors may learn a lot and have a lot of fun.
Also Read: IELTS test syllabus
Model answer 3
I have always enjoyed travelling, especially to new sites that are close to the river, sea, or ocean. So, a few locations from around the globe have now earned a spot on my trip wish list. The Greek island of Santorini is one such location that I'd like to visit when the perfect occasion and travel companion present themselves.
Santorini, also known as Thira, is a volcanic island encircled by the southern Aegean Sea that is renowned for its dramatic scenery, breathtaking sunsets from Oia Town, the blue-green waters around Fira, the Venetian Castle in Akrotiri, and the breathtaking views from the tower La Ponta.
In addition, there are stunning beaches that are found in their natural state, such Kamari's black pebble beach and Perissa's beach. Along with the aforementioned famous tourist destinations, the island's active volcano draws visitors as well.
Also Read: IELTS - Overview
I used to spend the most of my leisure time in the school library. So, one day, as I was reading a trip magazine, I came across a gorgeous location with cube-shaped white houses and a blue-green sea all around. I was initially intrigued by the gorgeous pictures that were printed on the book's pages. That was my first time to watch Santorini, and ever since, I have been in awe of those pictures.
I'm a travel enthusiast, but I also adore Greek history. One of the five Cycladic islands, this island is the subject of several myths. For instance, many people think that Santorini was the first location of the lost city of Atlantis, which vanished into the ocean's depths.
The popular cruises, vineyard tours, and boat excursions sound like fun, too. I'm compelled to visit this beautiful island because of the candy-colored houses that line the cliffs, the crystal-clear ocean, the serene beaches, and the kaleidoscope sunsets. Now that I am married, surely greek holidays are top on my list.
Also Read: Exam types associated with IELTS test
FAQ
1 What is the duration of the Cue card?
In general, the IELTS Speaking Exams last 11 to 15 minutes. It is made up of three sections. It takes five minutes to complete the first section, sometimes known as the general introduction or basic questions. The second half is the cue card portion, wherein two minutes are allotted for speaking on the subject and one minute is allotted for preparing. The candidate may also be stopped earlier by the examiner. The final phase, called the follow-up round, often lasts five minutes.
2 Do IELTS cue cards have a pattern?
The IELTS cue cards are updated every four months, and half the themes are changed. You can master every repeated cue card—including those featuring a person, thing, memory, etc.—and ace your test.
3 What criteria are used to score IELTS cue cards?
The four band descriptors are pronunciation, lexical resource, grammatical range and accuracy, and fluency and coherence.
The final score is determined by adding the total values that have been assigned to each of these factors.
The range of the band could be 0 to 9. The band score is determined by averaging these four scores and applying the algorithm below:
LR+FC+P+GRA/4
4 Is that okay if I learn the response to the same question?
We would recommend not to because this is on-the-spot speaking. Any extempore speaking, spoken with the impression that you have already learned would jeopardize your chances of scoring more in the Speaking Test.
5 What other Questions can be there related to this question?
There can be many like 'Describe a place you go to often', 'Describe a place in your city where most people visit', and 'Describe a recreation place you visited'.
Get great articles direct to your inbox
The latest news, articles, and resources, sent straight to your inbox every month.
Popular Universities to Study Abroad
World class education waiting for you.
Blogs and Articles
Curated content to keep you updated on the latest education trends, news and more.
Related Blogs and Articles
A little effort to provide an authentic and reliable content for keen readers!!