• UK • study in the UK
UK Scholarships for Indian Students- Apply Here!
308 Reads

3 min Read
By:

CANAM Group

Updated On:

Jul 27,2023 01:10 PM IST
UK has always been a popular study destination for Indian students, primarily for its advanced education system. Since pursuing higher education in the UK can be expensive, the country also provides a wide range of university-based, government and private scholarships for Indian students. Read the blog to learn about such scholarship options.
Studying abroad is becoming a growing trend among Indian students as the opportunity not only allows them to explore modern and advanced education options but also provides culturally enriching experience. Among the popular study destinations, the United Kingdom (UK) is particularly renowned for its excellent academic standards. However, the financial aspects associated with studying abroad can be a potential deterrent.

To counter these financial constraints and attract bright students from diverse backgrounds, numerous academic institutions and organisations in UK offer a range of scholarships specifically designed for Indian students.

Continue reading the blog to explore some of these scholarships.

Intakes for Scholarships in UK are:
| | |
| --- | --- |
| Type of Intake | Duration |
| Autumn/Fall Intake | September to December |
| Spring Intake | January to April |
| Summer Intake | April to June |
Scholarships for Indian Students to Study in UK
British Chevening Scholarships for International Scholarships
The Chevening Scholarship is among the most prestigious scholarships for Indian students covering a wide variety of fields; including politics, government, civil society, business, the media, the environment, religion, and academia.
Sponsored by the UK Government's Foreign and Commonwealth Office, the scholarship covers more than 12,000 courses within 150 universities. It covers the cost of tuition fees, a living allowance, and return flights to the UK. To qualify, students must have a strong academic background and a potential for leadership.
Who is Eligible?
To apply for a Chevening Scholarship, applicants must:
Be a citizen of a Chevening-eligible country or territory

Be a holder of an undergraduate degree

Have at least two years of work experience

Meet the English language requirement.
A.S Hornby Educational Trust Scholarship
The A.S. Hornby Educational Trust Scholarships are awarded to international English language teachers to help them study in the United Kingdom. Established in 1961 by A.S. Hornby, the trust provides scholarships for a one-year Master in English Language Teaching (ELT) at the University of Warwick.

In collaboration with the British Council, the scholarship supports teachers committed to the practical development of English language teaching in their home countries.
Who is Eligible?
The A.S. Hornby Educational Trust Scholarships are awarded to individuals meeting the following eligibility criteria:
They must have at least two years of full-time English language teaching experience

They should hold an undergraduate degree or equivalent from a recognised university

They must have a full university degree in English
Erasmus Mundus Joint Masters Degree Scholarship
The Erasmus Mundus Joint Master's Degree (EMJMD) scholarship is a prestigious international study program covering a wide range of subjects, from health sciences, engineering, and information technology to social sciences, economics, humanities and more.

Erasmus Mundus provides scholarships to students wishing to pursue a joint master's degree from any college affiliated with the Erasmus Mundus program. The EMJMDs receive support from the Erasmus+ program of the European Union, aiming to enhance quality in higher education and promote cross-cultural understanding through study and research in various fields.
Who is Eligible?
EMJMD scholarships are open to students from around the world. To apply for an EMJMD scholarship students must:
• Hold a first higher education degree (Bachelor's degree)
Rhodes Scholarship
Established in 1902, the Rhodes Scholarship is among the world's oldest and most esteemed international scholarship programs, enabling outstanding young people from across the world to study at the University of Oxford, the scholarship includes a complete tuition fee, health insurance, and one economy-class flight ticket to the home country.
Who is Eligible?
While the specific eligibility criteria may differ from country to country, the following are the general requirements to be eligible for a Rhodes Scholarship:
Candidate must be between 18 and 28 years of age

Citizenship or legal residency in an eligible Rhodes Scholarship country

Completion of an undergraduate degree with a great academic record
Felix Scholarships
The Felix Scholarship aim to facilitate high-quality postgraduate education for gifted students from developing countries, including India, at leading UK higher education institutions. Established in 1991 by philanthropist Sir Michael Moritz and his wife Harriet Heyman, the scheme aims to support underprivileged individuals who would otherwise be unable to study in the UK.
Who is Eligible?
The Felix Scholarships are open to students from India and other developing countries fulfilling the following eligibility criteria:
They must be a citizen and be living and working in a developing country

They must be holder of a first-class Bachelor's degree

Candidates are expected to demonstrate financial need and must be able to demonstrate that they have sufficient funds to support any additional costs above and beyond the scholarship award
Commonwealth Scholarship and Fellowship Plan
First established in 1959, these are one of the most renowned scholarships in the UK, where the governments of over 50 Commonwealth Countries offer scholarships to candidates from the Commonwealth Nations. Till now, over 30,000 students have benefited from this meritorious scholarship in the country.
Who is Eligible?
To apply for the Commonwealth Scholarship and Fellowship Plan, candidates must be:
Below 40 years of age

A resident of India

Appear for a personal interview in New Delhi
Dr Manmohan Singh Scholarships
Named after India's former Prime Minister, Dr. Manmohan Singh, the scholarships are awarded to talented Indian students wishing to pursue doctoral studies at St John's College, Cambridge, UK, in the fields of Science & Technology, Economics, and Social Sciences. The scholarship includes a university composition fee at the overseas rate, a monthly stipend sufficient for a single student, and return economy air travel from India to the UK.
Who is eligible?
Eligibility criteria may include:
The applicant should be an Indian national

The applicant should be below 35 years of age as of 31st December in the year of application

The applicant should hold a Master's (postgraduate) degree from a reputed/recognised India university/institution with a first-class award in the relevant subject/field
Inlaks Scholarships
The Inlaks Shivdasani Foundation provides opportunities to young people with exceptional talent in the forms of scholarships, grants and awards. These are awarded to outstanding young Indians to enable them to develop their artistic, scientific, professional, and cultural abilities abroad and in India. The scholarship funding covers the program's tuition fee, living expenses, healthcare, and one-way airfare for the scholars.

Who is eligible?
Candidates must be below 30 years of age

Candidates should hold a first-class degree from a recognised institution in India

The scholarships are open to all Indian citizens who are resident in India

PhD Scholarships for Indian Students in the UK
Apart from the major study in UK scholarships mentioned above, some of the popular PhD Scholarships for Indian students in the UK are:
The Royal Society Grants

Carnegie PhD Scholarships

Saltire Scholarships

Euraxess UK Scholarships

Goa Education Trust Scholarships

Gates Cambridge Scholarship

The Newton-Bhabha Fund

Charles Wallace India Trust Scholarships

Imperial College London President's PhD Scholarships

Commonwealth Scholarships for Developing Commonwealth Countries

Wolfson Postgraduate Scholarships in the Humanities
Scholarship for Masters in UK for Indian Students
Many colleges in the UK provide scholarships for pursuing a master's degree, here are the popular ones offered by our partner universities:
Marshall Scholarships

CastleSmart Scholarships

University of Edinburgh Global Scholarships

University of Reading Master's Scholarship

Cardiff University Elite International Scholarships

Clarendon Scholarships by the University of Oxford

Queen's University Belfast International Scholarships
What to Keep in Mind Before Applying for a Scholarship?
While applying for scholarships, students should check their eligibility for each scholarship and pay attention to the application process and deadlines. While there are some scholarships that require separate applications, others automatically consider students when they apply for their chosen course.
Conclusion:
Studying in the UK is certainly a life-changing experience for students, and scholarships make this opportunity accessible to a larger number of Indian students. These scholarships financially support students, recognise their academic achievements, encourage their intellectual growth, and often provide a platform to forge lasting international networks.

So, if you are an Indian student with dreams of studying in the UK, now is the perfect time to start researching these scholarships and embark on an enriching educational journey.
FAQ
What are some scholarships available for Indian students in the UK?
Many scholarships are available for Indian students in the UK, including the British Chevening Scholarships, Joint Master's Degree Scholarship, the Erasmus Mundus, the Rhodes Scholarship, the A.S Hornby Educational Trust Scholarships, the Felix Scholarships, and the Dr Manmohan Singh Scholarships, among others.
What eligibility criteria do I need to meet to apply for UK scholarships?
The eligibility criteria for every scholarship depend on many factors. Generally, students need to be Indian citizens, have a strong academic record and meet the scholarship requirements, such as a specific field of study, level of study, or financial need.

What costs are covered by these scholarships?
While most scholarships cover tuition fees, many also cover living expenses, airfares to and from the UK, and sometimes additional costs like books, research, or health insurance.

How can I apply for these scholarships?
Since each scholarship has its application process, students are advised to check all the necessary details with their study abroad counsellor or contact the scholarship provider for the most accurate and up-to-date information. Generally, the application process involves an online application form, academic transcripts, letters of recommendation, a personal statement or essay, and sometimes an interview.
Can I apply for more than one scholarship at a time?
A student can generally apply for multiple scholarships simultaneously after carefully checking and verifying each scholarship's specific terms and conditions.
Get great articles direct to your inbox
The latest news, articles, and resources, sent straight to your inbox every month.
Popular Universities to Study Abroad
World class education waiting for you.
Latest at CANAM
Events, webinar, college / university visits and more.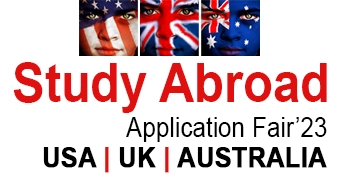 Study Abroad Uk, USA, Australia Application Fair
Study in UK, USA, Australia • Application Days
Multiple Location • 11:00AM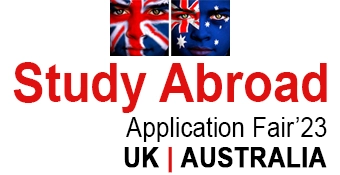 Study Abroad Australia & UK Application Fair
Study in UK, Australia • Application Days
Multiple Location • 11:00AM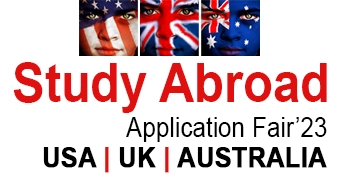 Study Abroad Uk, USA, Australia Application Fair
Study in UK, USA, Australia • Application Days
Multiple Location • 11:00AM
Blogs and Articles
Curated content to keep you updated on the latest education trends, news and more.
How to work in Canada after Graduation
After completing their studies, many students choose to live in Canada only because there are a lot of job opportunities in Canada for Indian st...
Updated on • Sep 28,2023 01:35 PM IST • Study Abroad
Related Blogs and Articles
A little effort to provide an authentic and reliable content for keen readers!!