• USA
Working while studying in the USA
243 Reads

3 min Read
By:

CANAM Group

Updated On:

Sep 22,2021 10:34 AM IST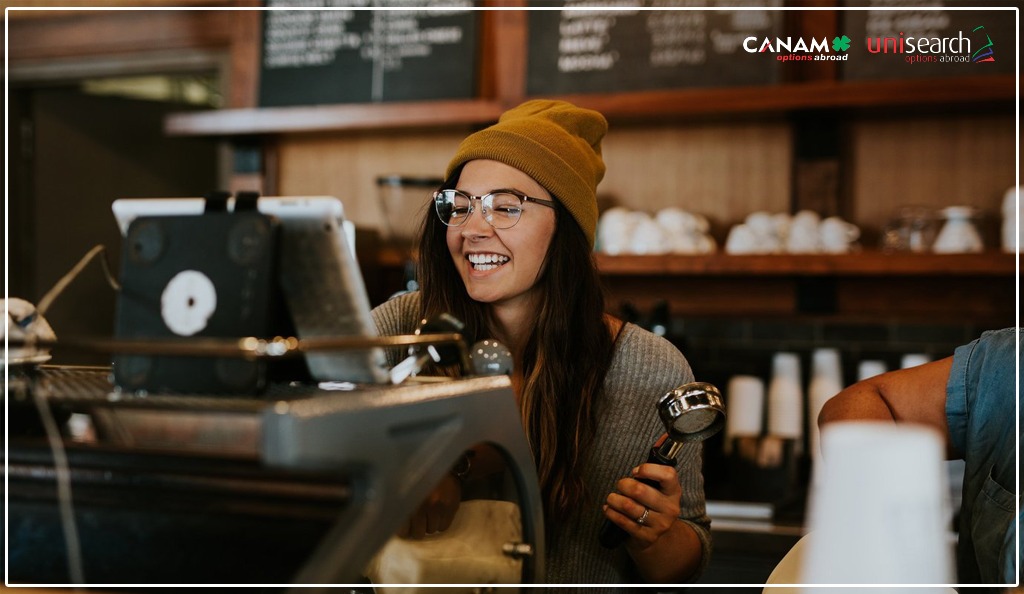 Part-time jobs are considered very important by International students once they go abroad to study. There are several methods to earn some extra cash and interact with students from across the globe. Also, part-time jobs help you understand student life and culture. According to the American student visa guidelines, you can work only 20 hours per week during the classes and up to 40 hours per week while the classes are not going on.
Working part-time in the US as an international student has certain conditions such as the hours allowed to work, types of work including, etc. Keeping that in mind, we have fashioned this blog covering the key points that you need to know and remember while looking for a part-time job in the USA, along with the several part-time job options (on-campus and off-campus).
Job Regulations for International Students in the USA
There are two categories for part-time work in the USA for international students. Let's have a quick look at this before discussing popular part-time jobs in the USA.
Working On-Campus With An F-1 Visa
Working on-campus is the easiest option for any international student in the USA looking for part-time work to make some extra money. Plus, it is the only method to work during your first academic year in the country. Working on-campus refers to work performed within the premises of a university. Rules about on-campus employment in the USA are as follows:
Students must maintain a valid F-1 status
A student would be restricted to work for only 20 hours per week.
A student can work up to 40 hours of work per week during holidays and vacations.
Working Off-Campus With An F-1 Visa
You can work off-campus if you have completed your first academic year in the USA and hold a valid F-1 visa. You have three options:
Optional Practical Training (OPT)
This program lets you work in your study area, which could either be an internship or a job. In this case, you can work during and after the completion of your degree. The rules of OPT are established by the U.S. Citizenship and Immigration Service, which may change from time to time. General OPT requirements are as follows:
You are eligible to apply for OPT after getting in the course for at least nine months. However, you cannot work until you receive your Employment Authorization Document (EAD) from USCIS and have completed one year of study.
The job should be related to the field of your major.
Must maintain F-1 visa status.
Should NOT have been in full-time Curricular Practical Training (CPT) in the past 12 months or more.
Part-time OPT decreases available full-time OPT by half.
Full-time OPT can be done for up to 12 months in total.
After completing your degree, OPT will let you work full-time, and it should be finished within 14 months after graduating. Applications should go only through USCIS before graduation is done.
STEM Optional Practical Training (OPT) Extension
International Students who have completed their studies in STEM fields can extend their OPT for 24 more months.
Curricular Practical Training (CPT)
An international student can work off-campus only if the degree program they have enrolled requires or practical training is essential. The rules related to CPT are:
A student must be enrolled full-time for one year on valid F-1 visa status (excluding those whose courses need immediate CPT).
Must have acquired a relevant job offer before submitting a CPT authorisation request.
The job offer should be directly related to your field of study.
No limit of work hours in CPT, be it part-time or full-time.
You will be allowed for only part-time CPT during school.
Severe Economic Hardship
In this case, any international student holding an F-1 visa and facing "severe economic hardship" according to USCIS will be eligible to work off-campus while classes are going on and full-time during holidays.
Students must hold a valid F-1 visa for at least one academic year.
Must have a good academic record
Evidence of economic hardship is to be provided.
Ensure on-campus similar employment opportunities are not available at that point in time.
Some On-Campus part-time jobs for international students
 Teaching Assistant
 Library Page
 Campus Ambassador
 University Campus Tour Guide
 Barista
 Computer Lab Technician
 Production Assistant
 University Campus Tour Guide
Some Off-Campus Part-Time Job Options for International Students in the US
Customer Support Representative
Translator
Babysitter
Store Associate
There are certain USA Career and Work Rights that one should go through before searching out for part-time jobs in the USA.
We hope this blog helps you find a suitable part-time job for you. For queries related to studying in the US, get in touch with experts at Canam by requesting a callback to seek guidance.
Stay tuned for more updates and follow us on Instagram.
Get great articles direct to your inbox
The latest news, articles, and resources, sent straight to your inbox every month.
Popular Universities to Study Abroad
World class education waiting for you.
Blogs and Articles
Curated content to keep you updated on the latest education trends, news and more.
Best Health Programs to Study in Canada in 2023
Canada is home to some of the top universities in the world, such as the University of Toronto and McGill University. Additionally, Canadian degrees a...
Updated on • Mar 31,2023 11:26 AM IST • Courses in Canada
Related Blogs and Articles
A little effort to provide an authentic and reliable content for keen readers!!
Difference Between OPT and CPT
Difference Between OPT and CPT The USA has always been a popular study destination among international students for its wide variety of cou...
Updated on • 29-03-2023 • USA