• New Zealand
Things To Know When Planning to Study in New Zealand
424 Reads

3 min Read
By:

CANAM Group

Updated On:

Oct 23,2019 07:38 AM IST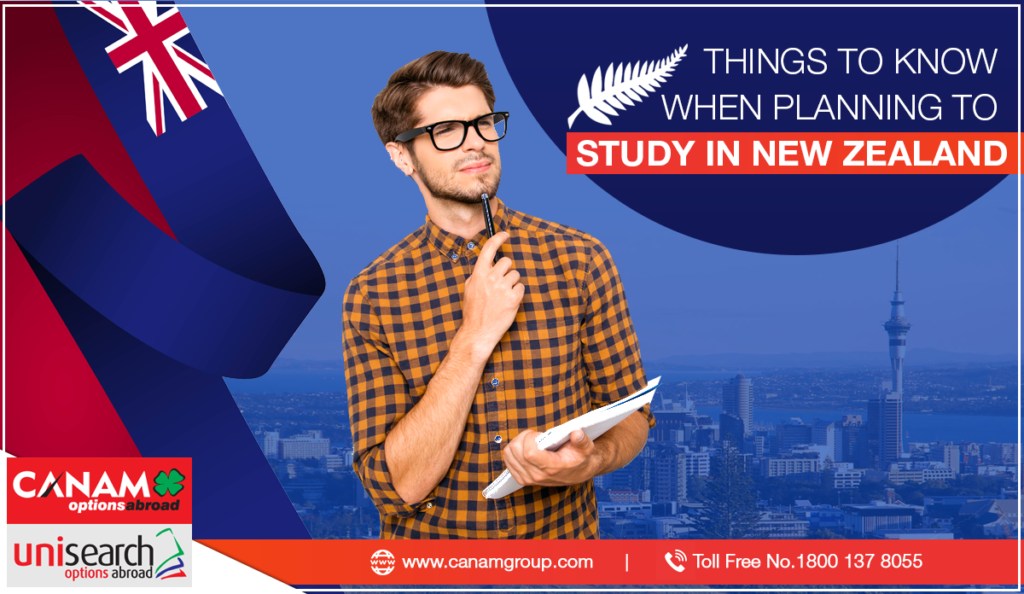 New Zealand is one of the most favorite study abroad destinations for international students as it offers an excellent quality of education. Its educational programs and degrees are based on the world's most recognized and accredited UK- based education system. New Zealand has an advanced education system with state of the art facilities. It provides a safe learning environment and great study opportunities. It also provides support services for international students.
The Economist Intelligence Unit has revealed that the education in New Zealand is the best in the world as it prepares students for the future. Amongst 35 economies New Zealand has topped in the Worldwide Educating for the Future Index 2017. Besides education, New Zealand is famous for its friendliness, hospitality, and warmth to overseas visitors from other cultures. New Zealand offers the benefits of a developed country and charm of tranquility of the countryside. There are also a few standout things to help a student prepare for his new home.
Let us get to know a few important things when planning to study in New Zealand.
1.    University and Course:
There are total only 8 universities in New Zealand and 18 institutes of technology and polytechnics providing excellent quality of courses to international students. All the universities in New Zealand are listed in the QS World University Rankings 2019. Students can choose the institute as per their preferences relating to the location, fee structure, availability of desired course, international student ratio and student facilities.
2.    Requirements for studying in New Zealand
When planning to study in New Zealand, students need to meet the basic requirements for admission and student visa.
Documents Required for Admission:
Academic Transcripts
IELTS/TOEFL Score Card
Work Experience (If applicable)
Handwritten Statement of Purpose
Documents Required for Visa:
Passport
Offer letter from the College or University
Proof of sufficient funds
(Students need to appear for the Interview conducted by the New Zealand High Commission)
3.    New Zealand economy:
The New Zealand economy is ranked number one for social progression in the world. It covers basic human needs, foundations of wellbeing and number of opportunities available to the people living in the country. New Zealand is a service and an innovation-oriented economy.  International education, Hospitality, Winemaking, Technology, Tourism, and Film Production are some of the major factors contributing to the New Zealand economy and society.
4.    Employability scope:
New Zealand has a very talented and globally focused service sector. Its technology and innovation-driven industries employ a large number of STEM (Science, Technology, Engineering, and Mathematics) workers because these industries require a high level of research and development to power their economy. New Zealand's enabling industries also employ a large number of people in transportation, communications, financial institutions, tourism, agricultural and construction sectors. These industries provide basic economic infrastructure to the country.
5.    Global career opportunities:
New Zealand government in 2018 introduced a three-year open post-study work visa for all international students studying Bachelors, Masters or Doctoral degrees. Also, students are allowed to work up to 20 hours a week during semester studies and 40 hours during vacations in colleges and universities. Universities offer 'work-ready' programs and internships to help students connect well with New Zealand based firms and multinational companies.
6.    Scholarships:
Good news for Indian students who want to study in New Zealand! Prestigious scholarship initiative awards scheme co-sponsored by the New Zealand Government is exclusively for Indian students who are interested in studying in New Zealand.
More than 34 scholarships worth approximately INR 1 crore (NZ$215,000) are available for Indian students interested in New Zealand universities. There are 25 Masters and 9 Bachelors awards and scholarships providing to contribute towards course fees. 
7.    Travel and medical insurance:
International students studying in New Zealand are not entitled to free medical benefits. They need to pay the total cost of their treatment. For this reason, they have to make sure their medical and travel insurances are in proper order.
To know more about the documents required or steps to follow to study in New Zealand, visit your nearest Canam Unisearch branch and a team of experts will guide you through the admission and study visa process.
Get great articles direct to your inbox
The latest news, articles, and resources, sent straight to your inbox every month.
Popular Universities to Study Abroad
World class education waiting for you.
Blogs and Articles
Curated content to keep you updated on the latest education trends, news and more.
Best Health Programs to Study in Canada in 2023
Canada is home to some of the top universities in the world, such as the University of Toronto and McGill University. Additionally, Canadian degrees a...
Updated on • Mar 30,2023 11:35 AM IST • Courses in Canada
Related Blogs and Articles
A little effort to provide an authentic and reliable content for keen readers!!