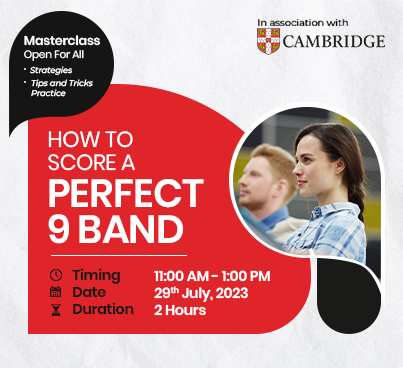 How to score a perfect 9 Band ?
29th July 2023 | 11:00 am - 1:00 pm IST
Highlight
Unlock your true potential to fasttrack your IELTS test prep journey by joining the virtual fair where Cambridge University Press & Assessment (creator of the IELTS exam) brings its global experience in the IELTS domain. Join multiple Masterclasses where Cambridge educators will cover all 4 modules of the exam with a range of tailor-made internationally acclaimed content.
In this free webinar you will learn :
How can you ace IELTS 10x faster than your peers,
Gain insights about the IELTS examination from ex-IELTS examiners,
Get feedback with actionable insights to bridge the gap between your current IELTS predicted band and your target band.
Leverage the advanced teaching pedagogy from the comfort of your home. Register now as this is a limited seat event.
How to score a perfect 9 Band ?
29th July 2023 | 11:00 am - 1:00 pm IST
Why Attend
Why should you attend our events?
Meet Cambridge Educators
Interact with representative from Cambridge (creator of the IELTS exam) and gain useful insights about the upcoming IELTS examination
IELTS Registration Offers
Find out which version of the IELTS exams you need to attempt and get free assistance for on-the spot IELTS exam registration
Masterclass
Get insights about the IELTS exam and learn tips and tricks from Cambridge trainers about 4 modules from trainers from Cambridge.